Summer Camps – Register Now!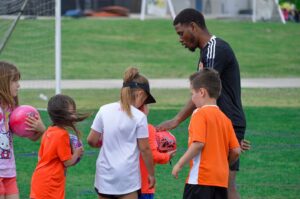 We are excited to announce the dates for the coming Summer Camps
The 1st Dynamo Summer Camp will take place at Broussard Sports Complex on June 13th - 17th, and the 2nd Summer Camp will take place at Youngsville Sports Complex July 11th - 15th.
The Summer Camps welcome players at all levels. For beginners, the camp is a great opportunity to start working on different skills and learning the fundamentals of the game we all love. For intermediate level players, the camp offers an opportunity to learn new skills and practice different techniques, reaching the next level of the game. For more experienced players, Easter camp offers a challenging opportunity to perfect their skills and push their limits when it comes to technique, game IQ, and fundamentals.
Programs offered:
Dynamites (U5-U6) 9am-10:30am - $65
Half Day (U7-U14) 9am-12noon - $110
Full Day (U7-U14) 9am-4pm (1hour lunch break 12pm-1pm) - $190
Early Drop off available at 8am.