2022 FALL RECREATIONAL SOCCER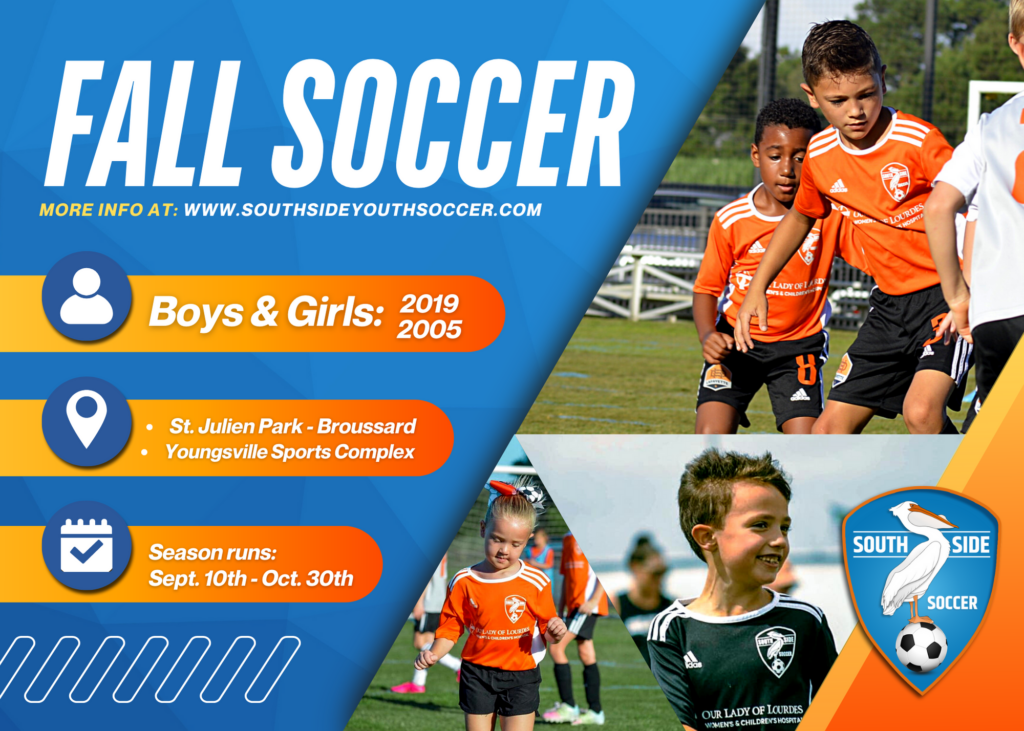 Registration Deadline: Sunday Aug 21. There is a wait list and $25 late fee for registrations after the deadline.
Ages: Boys & Girls born Jan 1, 2005 – Dec 31, 2019
Cost: $75 registration fees
Locations: Youngsville Sports Complex + St. Julien Park in Broussard
Season Dates: Sep 10 – Oct 30
*Game days & times subject to change
*Volunteer coaches choose practice days and times which are booked for the entire season.
*Players can choose to play the majority of their games at Youngsville Sports Complex or at St. Julien Park in Broussard.
Uniforms: 
Recreational Uniform
Orange Jersey: Home Team
White Jersey: Away Team
*ALL players are required to wear Adidas Southside Youth Soccer recreational jerseys on game day
*ALL jerseys must have the iron-on logo on the front AND on the back of the jersey
Third Coast Soccer
Located: 100 William O Stutes Street Suite B, Lafayette, La. 70503
(Please visit the store after 1:00pm for a better shopping experience)
Phone Number: 337.534.0281
Cost: $38.50 (both recreational tops will need to be purchased)
Black soccer shorts and shin guards are mandatory. Soccer cleats are optional, but preferred. Cannot wear baseball cleats.
Game sock color is determined by the volunteer coach.
Practice Locations:
Youngsville Sports Complex (YSC) on Fields 3, 4, and 5. Enter the soccer concession stand tunnel and turn right.
Foster Park (extension of YSC) on Fields #F1, F2, F3, and F4. Currently on the baseball fields.
St. Julien Park in Broussard (SJP) on Fields 1 and 2. Found at the soccer park on the left side of the fields.
SSYS/LHC Fields on all fields #1-11. Overflow park for practices.
MAP of Youngsville Sports Complex
MAP of St. Julien Park
MAP of SSYS/LHC Park